Malaysian Char Kway Teow
CHAR KWAY TEOW (Stir fried rice cake strips)
A true and tested Malaysian delicacy. If you want to make this dish you have to include certain ingredients like the belacan which I normally incorporate into the sambal.
The ingredients for the sambal includes garlic, shallots, red chilies and belacan, slow cooked until it thickens.
Substitute blood cockles with clams, fresh or canned.
One other ingredient that is used is the cooking caramel sauce (Cheong Chan). If it's unavailable Hoisin and Oyster sauce works as well.
Buy a good quality gourmet, thick soy sauce. And you have to use lard to get that shiny, smooth texture.
The sauces give this noodles the colour and its taste. It's easy to make this dish once you've collected all your ingredients.
For those who have travelled to Malaysia you know what I'm talking about.
Ingredients:
White flat noodles separated (900 g/ 1 bag)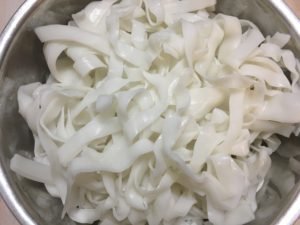 2 cup shrimps
1 cup blood cockles shelled (kerang) (substitute – canned clams)
½ cup fried pork belly (substitute – pork rind, fried bacon fat, lard or crackling)
4 eggs
2 cup mung bean sprouts, keep one handful aside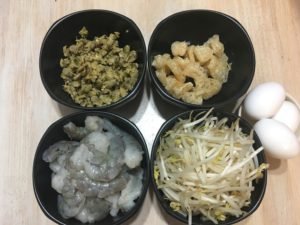 1 square fried tofu sliced
1 round fried tofu sliced
10 fish balls sliced
4 Chinese sausages sliced thin (lap cheong)
10 garlic chives (Chinese chives) cut into 2" length
1 fish cake sliced – in the middle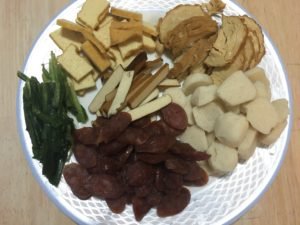 3 shallots or 1 small red onion
2 garlic cloves chopped
2 tablespoons chili paste
1 tablespoons fish sauce (or just use
2 tbsp sambal – see recipe below for the sambal)
3 tablespoonsthick dark soy sauce
2 tablespoonslight soy sauce
2 tbsp thick caramel sauce (Cheong Chan) or 1 tbsp Hoisin and 1 tbsp Oyster sauce mixed together
2 tbsp sambal and
1 tsp pepper
1 red chili sliced
¼ cup lard
and 2 tablespoons oil
SAMBAL
Ingredients:
10 shallots
10 garlic cloves
1 cup red dried chilies soaked in water and drained
1" belacan (shrimp paste) roasted
2 tbsp oil
Method:
Blend all the ingredients or pound them to a fine paste. Heat the oil and add the blended ingredients. Keep stirring until the mixture thickens. That will take about 30-45'.
Utensils:
A wok, two spatulas and high heat.
Banana leaves (optional)
Method:
Heat oil and lard and add the sambal, and stir it around. Add the chives, prawns, cockles/clams, pork and the sauces.
Add noodles and keep stirring. Keep the heat high at all times.
Now, push the ingredients to the side of the wok and add the eggs. Fry the eggs, fish cakes, and the rest of the ingredients.
Stir fry over high heat and stir fast. Throw in the bean sprouts that you kept aside and stir it in. Remove from heat and serve on a banana leaf for that authentic Malaysian Char Kway Teow flavour.
Just as I was finishing this dish on my deck, one of my neighbours stopped by with his dog and he got to taste Char Kway Teow for the first time, and loved it.
"Hi Gawri, what are you cooking…smells good?" – How many times have I heard that beautiful phrase that makes this home cook so happy.
Cooking method: Stir fry
Prep time 20′, Cooking 10′
Serves: 7 generous portions