Malaysian Chinese Hot and Sour Soup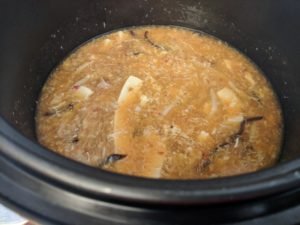 As a Malaysian I usually have all the ingredients in my freezer and pantry. If you don't, just make a run to the Chinese grocers and you'll have them ready for cooking at any time. It's easy to do this soup.
Now you can enjoy it from the comfort of your home. It takes about half and hour to make. You can omit some of the ingredients but you are going to loose out on the flavours.
Ingredients:
1/2 cup thinly sliced pork tenderloin or chicken mixed with a little soy, sesame and ginger.
2-4 tbsp hot chili paste sambal oelek, Thai chili or any other chili paste.
4 tbsp oil
OR 8 cups chicken stock/pork stock or water
1 cup sliced wood ear mushrooms (fungus), soaked and sliced
8 lotus flower buds soaked (they are long and about 5 inches long and light brown in colour)
4 blocks sliced firm tofu
8 shitake mushrooms sliced
1/2 cup bamboo shoot thinly julienned (you can buy it in the can)
1 small carrot thinly julienned
1" ginger thinly julienned
1 tbsp light soy sauce
1 tbsp sesame
1 tbsp teaspoons salt
1 teaspoon white pepper powder
4 tablespoons cornstarch mixed with ½ cup water
2-4 tablespoons rice wine vinegar
¼ cup white vinegar
2 tbsp Xiaoxing cooking wine
1/2 cup chopped cilantro
4 scallions sliced
fried onions
Method:
Heat oil, add the chili paste and cook it well until the chili oil floats to the top.
Add chicken or chicken/meat stock and add all the other ingredients: soy sauce, ginger, mushrooms and let the soup come to a boil. Add the tofu and let it cook.
Add the cornstarch first and mix the soup until it thickens.
Now, pour the egg mixture slowly while still stirring the soup. The soup will thicken again.
Season to taste with salt and pepper and add the vinegars last. I like to use the vinegars and the wine.
Keep warm and serve immediately, garnished with scallion, cilantro and fried onions.
*Tip Always thicken the sauce first with cornstarch, then the eggs mixture, and lastly with the vinegars.
Cook the raw chilis well.
I like mine sour and hot. You can adjust the taste accordingly.
Let me know if you have any questions.
Tagged under:
#asia
,
#asiancuisine
,
#asianfood
,
#breakfast
,
#chef
,
#cuisine
,
#dinner
,
#ethnic
,
#ethnicfood #delicious
,
#exotic
,
#food
,
#foodie
,
#homecooking
,
#homemade
,
#lunch
,
#malaysian #malaysia
,
#malaysiancuisine
,
#multicultural
,
#recipes
,
#savoryfood
,
MalaysianChineseHotAndSourSoup