Kuih dadar (Malaysian crepes)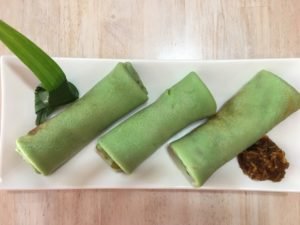 Ingredients: Batter
2 cups thick coconut cream from the can
1 cup juice from a bunch of pandan (screwpine leaves) strained or screwpine leaf essence
2-3 cups water
2 eggs beaten
4 cups flour
1 tbsp salt
1 tsp baking powder dissolved in ¼ cup water
¼ cup coconut oil
Method:
Mix the coconut cream, pandan juice, water, salt and eggs.
Add the flour a little a time and keep stirring to avoid lumps. Finish adding all the flour.
The consistency should be that of for pancakes.
Lastly, add the baking powder and the coconut oil.
Ingredients: Filling
2 cups unsweetened shredded dried coconut
3 pieces, 2-inch palm sugar
½ cup water
Method:
Boil the water and sugar.
Stir until all the sugar dissolves.
Add the coconuts and stir the mixture until the mixture is well incorporated.
Keep it aside to cool.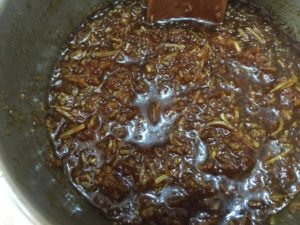 Method for rolling the crepes with filling.
Use a soup ladle full of batter and spread it on a griddle over low to medium heat. There is no need to add any oil to the pan because the batter already has coconut cream and oil. It will not stick to the pan.
Swirl it around.
Flip the pancakes to cook on both sides.
Remove and roll them with the filling while still hot. The filling will ooze and melt into the pancakes.
The prettier pattern should be on the outside.
Enjoy and feel the sugar rush to your brain.
Tagged under:
#asia
,
#asiancuisine
,
#asianfood
,
#breakfast
,
#chef
,
#cuisine
,
#dinner
,
#ethnic
,
#ethnicfood #delicious
,
#exotic
,
#food
,
#foodie
,
#homecooking
,
#homemade
,
#kuihdadar
,
#lunch
,
#malaysian #malaysia
,
#malaysiancuisine
,
#multicultural
,
#nyonyakuih
,
#recipes
,
#savoryfood