Chicken Pot Pie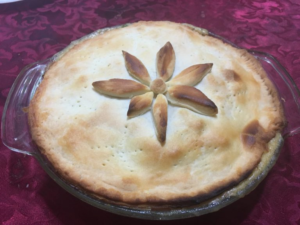 Filling ingredients:
2 tbls butter mixed with ¼ cup flour – keep aside
1 tbls cornstarch mixed with ½ cup milk – keep aside
1 onion diced
1 carrot diced
1 celery stalk diced
1 huge potato cubed
2 cups raw chicken diced, mixed with 1 tbls Worcestershire sauce and seasoned with salt and pepper and the herbs
½ cup peas
1 cup chicken broth for a richer saucier filling or water
1 tsp thyme
1 tbls sage
1 tbls parsley
1 tbls curly parsley
1 tbls chives
1 tsp paprika
1 tsp cayenne pepper
1 tbls lemon juice
1 tsp pepper
salt
Method:
Melt the butter and saute the onion, carrot, celery and potatoes.
Add the chicken, salt and pepper and simmer for 10 minutes until the potatoes are just tender.
Add the rest of the spices.
Add the kneaded butter and stir until dissolved.
Next add the cornstarch mixture and bring to a boil.
Stir in the peas and add the lemon juice and let the mixture cool.
Pastry – makes two 9 inch pie crusts
2 1/2 cups flour
1/2 tsp salt
1 cup cold margarine
1/4 cup ice water
1 tablespoon white vinegar
Milk or beaten egg for brushing
Method:
In a food processor, combine the flour and salt.
Add the margarine and pulse a few seconds at a time until the mixture resembles breadcrumbs.
Add the water and vinegar, and pulse again until the dough just begins to form. Add water 1 tablespoon at a time.
Remove the dough from the food processor and form into two balls.
Refrigerate for 30 minutes or overnight.
Preheat the oven to 200 °C.
Roll out the dough and line a 9-inch pie plate.
Roll out the other ball for the top.
Spoon the chicken filling into the crust. Brush around the dough with milk and cover with the second sdough.
The milk acts as a binding agent to seal the edges of the pie.
Flute the edges and brush the top of the pie.
Bake for 30-40 minutes until the pastry is golden brown.
(Double the recipe for 2 pies)
Be brave and play with the herbs and spices to give the classic chicken pot pie that extra kick.
Enjoy!