Char Siu Bao
I grew up eating bao or as we call it in Malaysia pao. We'd wait for the pao man to come around midnight on Fridays and Saturdays. My favourite is Char Siu Pao. This is the dumpling with sweet pork filling. I've made it a few times in Malaysia, but we'd buy it most of the time. When I found it in the Chinese store in Mississauga a few years ago I was excited to take a huge bite into it, but I was disappointed with the taste, so I decided to make it again; and I've been making it ever since.
If you are into baking, making bao should be simple. These baos can be steamed or fried. I like to use the bread machine to mix and rise the dough. Go ahead and use your hands or mixing bowl. You're good as long as you get a smooth dough ball that comes together.
In this post I'll be tackling:
the dough
the meat ( it can be bought)
the filling
five spice powder
making the bao
and some tips
Dough – in bread machine order
1 1⁄4 cups warm water
2 tbsp oil
2 tbsp sugar
1 pinch salt
3 cups flour plus 1 cup corn starch/or bao flour (wheat starch/Hong Kong flour)
If you can, try to get the flour below. The red pack is the bao flour.
This one below is wheat starch. You need only use one cup of this flour to 3 cups of normal flour.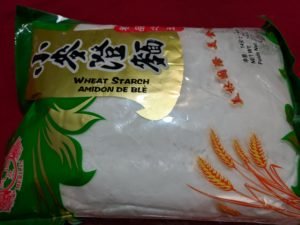 2 tsp active dry yeast
12-15 cupcake paper molds flattened or coffee filter
steamer
¼ cup vinegar mixed into the steamwater
Marinade for the meat
10 by 3 (approx.) inches pork tenderloin
4  minced garlic
1 tbsp ginger minced
2 tablespoons soy sauce
3 tablespoons honey
2 tablespoons sugar
2 tablespoons Shao Xing wine
3 tablespoons hoisin sauce
2 tbsp molasses
2 cups water
1 teaspoon of 5 spice powder (recipe below)
Method:
Mix all the ingredients and marinade the meat overnight.
Roast the meat in the oven at 120° C for 2-3 hours until the meat is cooked. Turn the meat every half hour.
Five spice powder (this is plenty, store and use the rest for later)
Ingredients:
3 tsp Scehzuan peppercorns powder (don't use regular peppers, it's not the same)
3 tbsp ground star anise powder
1 tsp ground clove powder
1 tbsp cinnamon powder
1 tbsp fennel powder
(or  use whole spices and grind them fine)
Filling
The chopped Char siu meat
1 small white onion chopped
1 tbsp cornstarch mixed with a little water
1 tbsp sugar
Method:
Heat some oil, add the onion, sugar and chopped cooked meat.
Add the cornstarch to thicken the filling. Let it cook a bit and it's ready for filling.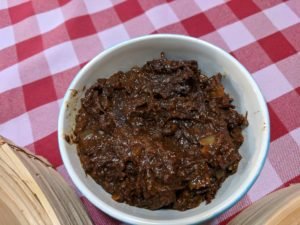 Putting the bao together.
Roll the dough into a long baguette shaped dough. Cut it into golf or tennis ball size balls. I like it big so I got about 12 balls out of this recipe.
Flatten the ball and roll it into the size of a CD. Let it rise a bit. Fill the dough and bring all the edges together and twist it.
Let the baos rise again for 10′. It will rise.
Prepare the steamer and transfer the baos into the steamer when the water is boiling.
Steam for 12 minutes. No more. Let it cool and devour.
* Tip
For a fluffy, white smooth dough mix the flour either with 1 cup of corn flour or bao/wheat starch.
I've never ever used baking powder. The yeast works just fine.
Adding a few tablespoons of white vinegar into the water also makes the baos whiter. My aunt swears by this. I really don't know the science behind this.
So, there. now you can make your own baozis with whatever filling that you  want. Enjoy. Red bean is another one of my favorites.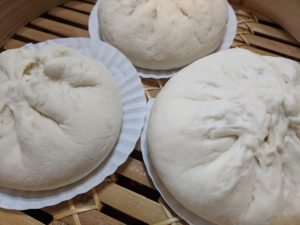 The uncooked baos above.
Tagged under:
#asia
,
#asiancuisine
,
#asianfood
,
#breakfast
,
#Brunch
,
#CharSiuBao #Baozi #Pao #IndianFishCurry #FishCurryGaramMasala #TomYumPaste #TomYum #NasiHujanPanas
,
#cuisine
,
#dinner
,
#EthnicFood
,
#ethnicfood #delicious
,
#ExoticDishes
,
#food
,
#foodie
,
#HomeChef
,
#HomeCook
,
#homecooking
,
#HomeMade #MalaysianIndianFood
,
#lunch
,
#malaysian #malaysia
,
#MalaysianChineseFood
,
#malaysiancuisine
,
#MalaysianFood
,
#MalaysianPortugeseFood.
,
#multicultural
,
#RainbowRice
,
#recipes
,
#savoryfood
,
MalaysianMalayFood