Briyani Masala Powder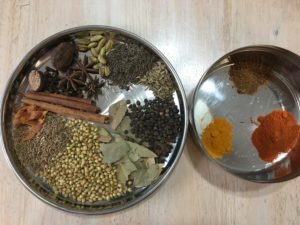 Briyani masala
Ingredients:
7 bay leaves
2 tbsp coriander seeds
1 tbsp cumin seeds
1 tbsp caraway seeds
3 mace blades
2 (3") cinnamon sticks (not cassia, get the real cinnamon)
½ a nutmeg seed
1 tsp cloves
3 star anises
10 green cardamom
1 black cardamom (break it)
1 tbsp peppercorn
1 tsp fennel seeds
½ tsp turmeric powder
1 tsp pure chili powder
1 tsp pomegranate seed or powder
1 tsp kalpasi (black stone flower)
1 marathi moggu (Kapok bud)
Method:
Toast all the ingredients over low flame for about 3 minutes, that is until you smell the spicy aroma.
Grind them fine.
Let them cool and store it in an airtight container. This is plenty since you'll only need ½ to 1 tablespoon most of the time.
Once you've grounded these spices you will smell the Briyani.
If you can get your hands on kalpasi and marathi moggu please let me know where I can get them. I ran out of it. That's why you don't see it on the spice tray and it has been hard to source it.  Kalpasi and marathi moggu takes this dish to a whole different level.
Yield: 1/2 cup
Finished product below.