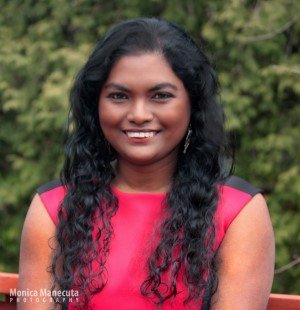 I, Gawri Manecuta am the author of Bunica's Tomatoes and Feast For A
Nation. I've been writing for more than 20 years and have inspired
others to write and self publish. My ideas come from personal
experiences and my inquisitive taste for knowledge of other cultures.
I'm a daughter of writers, the seventh generation to be born and raised
in Petaling Jaya, Malaysia of Indian and Polynesian descent
and was brought up trilingual speaking Tamil, Malay and English. I
write in English because this is the language I've mastered and
feel comfortable with. I'm a French student and
speak a passable Romanian. I obtained my LL.B. (Hons.) from
University of London, England and have a major in English Language.
Presently, I'm pursuing my lifelong passion for writing
children's books and cookbooks.
I reside in the artsy town of Oakville, Ontario with my husband, two children, our Goldador Nico; surrounded by breathtaking fauna.
I love to write, read, design, sketch, paint, cook, garden, travel, teach, bike, hike, learn new things, be creative, enjoy people and nature, watch cartoons, children's movies and sci-fi movies. I'm a huge Star Wars, Star Trek and Stargate fan.
I practice the ancient art of Feng Shui and believe in positivity.
My imprint, Mirwag Inc., is the publisher of Bunica's Tomatoes and
Feast For A Nation.
To see pictures of my outdoor pets click HERE.
A Word From the Author:
"As a child I read endlessly Enid Blyton books, Hardy Boys, Nancy Drew, The Hobbit, Lord Of The Rings and the classics. I read novels at age ten. I read Treasure Island and The Goonies a million times. Must be something about discovering lost treasures.
I love the smell and feel of a new book. I concocted my own stories and sketched them out. Then I grew up, and with the demands of my parents, went to law school.
The best thing about law school was the training of the mind, critical thinking, criminology, and questioning every decision. I worked a few years in corporate law and copyright. I married a great guy and raised my kids; I'm still doing it for family always comes first.
My passion to write children's books grew stronger as I grew older.
Each step has been a learning opportunity, with a valuable message embedded in every mistake I made.
Even though I wanted to be a writer and attend art school at fourteen, I'm glad I'm finally following my dream now.
If Colonel Sanders can do it at sixty-five… I have many good years ahead of me."