Wintry Sewing
My sewing alcove which doubles as my guest room.Everything sewing disappears into the huge trunk below the iron when guests decide to stay.
2017 started with busyness carved right into it. Days were dingy, long and never ending. Somehow I found myself at my sewing machine again in January, something I wasn't going to do this winter.
I tapped into my creative outlet and spun out a pajama pants and two aprons. The retro look for my daughter and the blue maid's apron for myself. As if I don't have enough of them.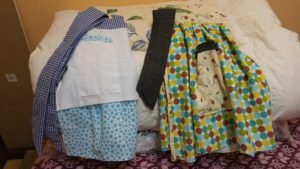 I decided on the purple theme for my sewing alcove from this present (pictured below) I got for Christmas from my daughter when she was eight.
I remember it well, I caught a glimpse of my daughter sewing a button and stuffing fluff into this little pillow with her wee little fingers. She was so proud of her handiwork when she presented it to me on Christmas day. I saved it all these years. Once she even asked me what it was supposed to be. I said, "You tell me, you made it."  I decided I'd use this pillow as a pin cushion and use it as a focal point to build my sewing nook. So far it looks good.
Sewing a new apron just seems to make cooking in my comfy, cozy kitchen more enjoyable.
I have been YouTubing sewing lesson from my sewing alcove in my guest room. From one to three wonderfully, working sewing machines.
A Janome, Omega and a Singer with an overcast foot attached permanently to it. I discovered fire by learning to use different sewing feet to get the job done right. My Omega came with twenty odd sewing feet. I also lucked out when a dear friend who downsized gifted me with her Janome, a whole lot of sewing feet and gardening tools.
Organizing the sewing feet in a ziplock bag, with names and usage makes it easier for an amateur sewer like me.
I'm not entirely new to sewing. I'd sew aprons on my mum's old Singer machine. The kind that would fold away and came with drawers. The tailor in the family was my dad but he hated to measure and cut the fabric so my mum would do it for him.
I was young and didn't know the finer points to sewing, however, I had good design ideas. These are two skirts that I saved from a while ago that my dad sewed for me. A while ago as in the late eighties. The fabric used for these pencil skirts are Malaysian batik.
My dad's introduction to sewing came about from his idleness growing up in a rubber plantation in Malaysia. My dad was being disruptive and running around the house, as usual, one day. His mum, seeing that decided to send him next door to the neighbour who was a tailor. He had no choice, he ended up learning to sew. Talk about olden days extracurricular activities.
Every Diwali night my mum and dad would be busy cutting and sewing new pajamas for us kids.
My dad passed away eight years ago.
I hope this little nostalgic bittersweet story inspires many of you to bring the new sewing machine out of the crawlspace and onto the kitchen table. Try something new and get your creative juices flowing.
You never know what you'll learn or create.