Tom yum paste
Ingredients:
4 lemongrass stalks sliced
(in Malaysia I'd use only, only three inches of the white part from the base of the lemongrass because we had a huge lemongrass bush. My dad would cut it short all the time, to keep it compact. Other times, he'd throw some of the plant away.)
(it's an entirely different story now, now I throw out tarragon and rosemary)
4" galangal sliced – same story as above with this one
10 shallots sliced
15 garlic chopped
8 Kaffir lime leaves slivered, remove the vein in the middle
30 red Thai chilies, 6 red long hot chilies, 2 cups dried red chilies soaked
4 tbsp fish sauce
4 tbsp dried prawns dry ground
2" shrimp paste (belacan)
6 cilantro roots including 2" of the base
1 cup tamarind paste
juice from 2 limes
2 palm sugar cubes (don't use white sugar)
½ cup oil, you'd need a bit more oil for this condiment
Method:
Grind the chilies first with the lemon and tamarind.
Add all the other ingredients a little at a time and grind it with as little water as possible.
Grind to a thick, fine, soft paste.
OR pound all the ingredients with a stone mortar and pestle.
Add oil and saute the paste over medium heat until the paste thickens. the aroma arises and the oil separates from the paste to the top.
Lastly add the palm sugar. The sugar will dissolve in the heat.
Give the paste a good stir.
Store in jars and store them in the fridge.
*TIP
Heat the oil in the rice cooker and add the paste, select the rice cooker mode, close the lid and forget about it.
Or you can stir it from time to time. I can assure you that the paste won't stick to the bottom.
To thicken the paste further, select the mode again.
At the end of two rice cooking cycle you'll have a thick paste.
You can use the paste for chicken, meat, soup, vegetables or even rice.
Add some coconut milk and you'll have another dish altogether.
Cutting the ingredients to smaller pieces aids in finer paste.
Time: 15 minutes to gather and chop all the ingredients, 1 1/2 hours to cook
Hours saved: countless yummy meals
Yield: 3-4, 8 oz mason jar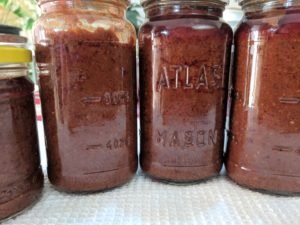 Tagged under:
#asia
,
#asiancuisine
,
#asianfood
,
#breakfast
,
#Brunch
,
#cuisine
,
#dinner
,
#EthnicFood
,
#ethnicfood #delicious
,
#ExoticDishes
,
#food
,
#foodie
,
#HomeChef
,
#HomeCook
,
#homecooking
,
#HomeMade #MalaysianIndianFood
,
#lunch
,
#malaysian #malaysia
,
#MalaysianChineseFood
,
#malaysiancuisine
,
#MalaysianFood
,
#MalaysianPortugeseFood.
,
#multicultural
,
#RainbowRice
,
#recipes
,
#savoryfood
,
#TomYumPaste TomYum #NasiHujanPanas
,
MalaysianMalayFood