Suji Biscuits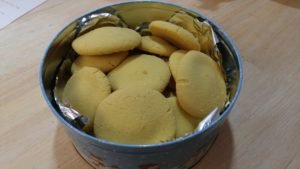 It just so happened that I had a jar of ghee tucked away in my pantry, a gift from my mum on her visit to India last year. What better use than to make Suji biscuits as it's called. I did have a nostalgic moment upon tasting them.
Ingredients:
300 g durum wheat semolina
200 g white flour
1 tsp baking soda
250 g icing sugar
2-3 tbls water
200 g melted and cooled ghee
1 tsp almond essence
Method:
Preheat the oven to 120C/250F. Melt the ghee and let it cool completely.
Mix the durum wheat semolina, flour, baking soda and the icing sugar in a bowl and sieve it twice.
When the ghee is cooled, mix the water and almond essence into it.
(Almond powder or a little chopped almond will do as well.
Add the flour mixture into the ghee mixture a little at a time. Mix it with a wooden spoon until all the flour is incorporated and you have yourself a ball of dough.
Roll the dough into balls and press with your palm. Place them on cookie sheets and bake them for 25-30 minutes. The top will be a little cracked and the bottom golden.
This is a no fail recipe, as long as you measure your ingredients carefully and the ghee is cooled.
Makes about 25 huge disks or 50 small ones. I must say there are only 20 left for the holidays.
Enjoy and let me know how yours turns out!