Pork Vindaloo
Not for the faint of heart. Try this hot and spicy dish this summer. You'll discover new taste buds that you didn't know existed. The marriage between the Indian spices and Portuguese way of marinating meat with wine and garlic is the creation of this delectable dish called (Carne de vinha d'alhos) literally meaning "meat in garlic wine marinade".
The Portuguese influence in Malaysia is quite visible with the popularity of this dish amongst the local Indians.
Ingredients A
Step 1
Toast and grind these ingredients:
1 tsp cardamom pods
1 tsp coriander seeds
1 tsp cumin seeds
1 tsp aniseed
1 tsp mustard seeds
2 star anise
1 tsp fenugreek
1 tsp peppercorn
2 sticks cinnamon
2 tsp turmeric powder
Ingredients B
Step 2
Grind these ingredients in the blender:
2 cups dried red chilies soaked overnight in water
2 whole garlic bulbs
2 " ginger chopped
1 big red onion roughly chopped
1 lemongrass
3 cups water
3 tsp salt
Ingredients C
Step 3
1/4 cup oil
1/2 cup tamarind juice
1/2 cup red wine vinegar
1 three inch block palm sugar or ½ cup demerara sugar
2 stalks curry leaves
2 potatoes quartered
2 lbs pork tenderloin cubed
4 kaffir lime leaves thinly slivered
Method:
 Toast all the spices in step 1 over low heat until fragrant and dry grind them.
Grind the chilies, garlic, ginger, lemongrass, and onion together with the dry ground spices in a blender with the water.
Marinade the pork with all the ground ingredients preferably overnight.
Heat the oil and add the curry leaves and the marinated meat.
Keep stirring and brown the meat.
Now, add the potatoes and let the potatoes cook.
Lower the heat and add the red wine vinegar and tamarind juice and kaffir lime leaves last, and let it simmer until the sauce has thickened and the potatoes have cooked.
Cover the pot and let the meat simmer gently until the sauce thickens, roughly an hour to one and a half hours.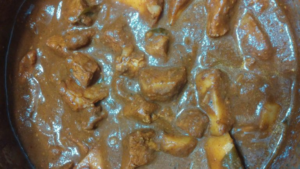 Serve with white basmati rice cooked with coconut milk and cucumber tomato salad.
Preparation and cooking time: 1 1/2 hour if the meat has been marinated overnight.
Serves 10 people
For the faint of heart please have a glass of cold milk nearby.
There is also an easier way to do this:
Put ingredient A in a blender and blend them fine.
Mix the blended mixture with ingredient B and the pork.
Leave it overnight in the fridge.
The next morning transfer the marinated pork to a slow cooker and add the potatoes.
Cook at slow heat for 8 hours.
Dinner is ready in the evening.
Enjoy!