Nasi Hujan Panas – Rainbow Rice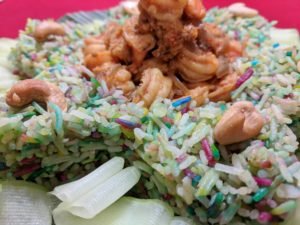 Rainbow Rice
Literally means: Nasi-hot Hujan-rain Panas-hot – Hot rain rice or Rainbow Rice.
In Malaysia the heat can reach up to 36°C. It will rain when the sun is shining and glaring. It is now that you will see a rainbow or two in the sky above. Freaking hot and rainy at the same time. Weird but true.
I am a seventh generation born and raised Malaysian, so please trust me when to comes to Malaysian food, especially since cooking is also my passion.
I don't know why this dish is called "hot rain rice" but I guess this is as good an explanation as any.
Rainbow is "pelangi" in Malay but no one calls this dish nasi pelangi. Go figure!
Rainbow rice is a name definitely befitting this colourful and tasty dish.
I always say that this is an inferior version of Briyani but, no doubt, a colourful one. The colour makes up for the lack aroma.
Malaysian food is a mixture of generations of different cultures: starting with Indian, Malay, Chinese, Portugese, Javanese and Thai. The cuisine is as rich as these cultures which makes Malaysian food unique. If you can grasp this your Malaysian cooking experience will be a breeze.
This is an oiled rice. Oiled rice are rice dishes cooked in ghee, butter or any other oils.
If you have tried ghee rice or Indian rice pudding, you are half way there in cooking this dish.
It's super simple, but looks difficult.
Ingredients:
4 cups Basmati rice or Thai long grain fragrant rice
4 cups water (or replace 2 cups water with chicken stock)
¼ cup evaporated milk (milk, watered down cream, or powdered milk, will work as well)
mix 10 saffron threads into the milk (see below how to powder saffron to maximize the usage of this expensive spice)
1 tbsp salt
3 tbsp ghee
1 cinnamon
2 star anises
4 cardamom pods
1 black cardamom
4 cloves
1 tsp caraway seeds
1 small piece nutmeg crushed
Roughly pound:
1 inch fresh ginger
4 garlic cloves
1 small red onion or 4 shallots
1 lemongrass pounded but leave it whole
2 screwpine leaves torn and tied into a knot (pandan)
Primary colours –Red, Blue, Yellow
We use colours to enhance the presentation.
We do not use colours derived from other foods like turmeric, flowers and beets to avoid adding extra flavourings to the rice.
This is a ghee oiled rice dish, therefore it's ok to use saffron as these two ingredients compliment each other.
Mix colours with a bit of water before pouring it onto the rice. Don't pour it straight from the bottles.
Method:
If you have a rice cooker it will come in handy as you can do everything in it. I use my rice cooker all the time.
Heat the ghee in the rice cooker, when it melts, add the spices and the pounded mixtures.
Add the water, milk, lemongrass and pandan leaves. Let the water boil.
After the water boils, add the rice and let the rice cook.
When the rice cooks you'll have oiled rice. The rice will be yellowish at this point.
But to get rainbow rice, here is what you do.
A few minutes before the rice is fully cooked you will see little craters on top of the rice with bubbles.
Mix the colours with a little water and pour the colours into the holes and let the rice fully cook. Wait.
Once the rice is cooked, it can be fluffed up and mixed gently to combine the colours.
The colours will mix together and give a rainbow effect.
This is a very tasty and colourful rice. You can impress your guests with this easy dish.
Utensils required: Rice cooker or a pan
Yield: 10 people
Prep. time: 10'
Duration: 30'- 45' to cook the rice
Served with rendang, chicken curry, prawn sambal, cucumbers and acar.
*TIP
If you are using a pan, pay attention to the vapours that collect at the bottom of the lid. These droplets add additional liquid to the rice. To avoid this, tie a clean tea towel to the lid. The tea towel will collect the liquid.
Below is the recipe for the sambal. This is a very versatile sambal that can be used for seafood or any other meat dish.
I make it ahead and keep it in a mason jar in the fridge.
Have fun making this dish and glad to answer any questions.
Tagged under:
#asia
,
#asiancuisine
,
#asianfood
,
#breakfast
,
#chef
,
#dinner
,
#ethnic
,
#ethnicfood #delicious
,
#exotic
,
#food
,
#foodie
,
#homecooking
,
#homemade
,
#lunch
,
#malaysian #malaysia
,
#malaysiancuisine
,
#multicultural
,
#NasiHujanPanas #RainbowRice #cuisine
,
#recipes
,
#savoryfood