Malaysian tom yum goong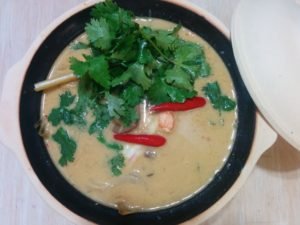 Ingredients:
5 cups shrimp broth (boil the prawn shells and head in water and strain them)
3 lemongrasses pounded
2" galangal (lengkuas) sliced
10 Kaffir lime leaves
4 red Thai chili pounded
1 sweet white onion sliced thickly
1 cup coconut cream (santan)
2 tbsp sambal (this can be Thai or homemade sambal) (my sambal has shrimp paste in it and it's spicy hot)
5 oyster mushrooms
1 tomatoes quartered
¼ cup tamarind water
1 tbsp sugar
1 tbsp fish sauce
2 tbsp oil
2 cups tiger prawns
½ cup lime juice
1 bunch cilantro for garnish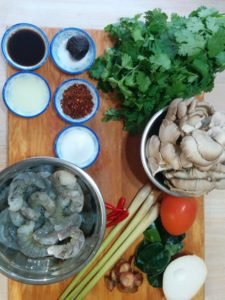 Ingredients from left to right: Cilantro, Oyster mushrooms. tomato, kaffir lime leaves, white onion, galangal, lemongrass,
bird eye chilies, prawns, sugar, sambal, tamarind, fish sauce and lime juice.
(santan not shown in picture)
Method:
Boil the prawn shells and heads and strain the broth and keep aside.
Heat the oil and add the sambal, chilies and pour the broth in.
Add the lemongrass, kaffir lime leaves, galangal and onion and let the mixture come to a boil.
Add the santan and let the mixture boil again.
Add sugar, fish sauce, tomatoes, tamarind juice and mushrooms. Let it boil again.
Add the prawns and switch off the heat. There is a saying in Malaysia, "either cook the seafood for 2' or 2 hours."
So, do not overcook the prawns. The heat will cook the prawns.
Lastly add the lime juice.
Garnish with cilantro and lime wedges and serve it hot.
Difficulty: Easy
Serving: 6 people
Time: 15'
Try making it from scratch and you'll love your creation.