Malaysian Telur Bungkus
 
Scroll to the bottom to see all the pictures.
I was introduced to different versions of this recipe in Pulau Pinang (Penang). I lived there for two years and had a great time discovering new Malaysian food and places.
It's also where I truly learned to make authentic assam laksa. I was born and raised in Petaling Jaya and as far as I knew people around me were not eating laksa. My Penang and Melaka friends were not crazy about WP laksa either. All this changed when I was introduced to laksa Penang. Now, that's a recipe for another blog post.
Let's get to telur bungkus. It's easy and quick.
This is nasi goreng so be creative and add anything that you want, even though I like to preserve the authenticity of the Malaysian recipes handed down to me through generations I'd like you to experiment and switch it up to your convenience.
However, the combination of these ingredients does taste heavenly, it's also a fusion of flavours that will keep your loved ones guessing. The ingredients in the sambal contributes a lot to the piquant of this dish.
And not to forget the tips and tricks I've come to learn from the best food vendors.
I make everything from scratch, and if I can do it, you can too.
In fact, telur bungkus (egg-wrapped) is nasi goreng (rice-stirfried) wrapped in a thin omelette practically meaning parceled egg.
It also makes cute hor d'oevres my guests love.
Ingredients:
4 eggs beaten with salt to make thin omelettes
2 cups cooked rice (leftover, day old rice is the best)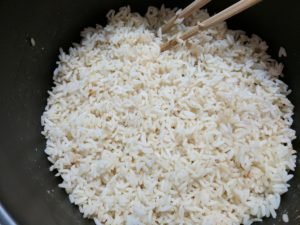 ½ cup chicken chopped- mixed with turmeric, pepper and lemongrass salt. I make my own lemongrass salt.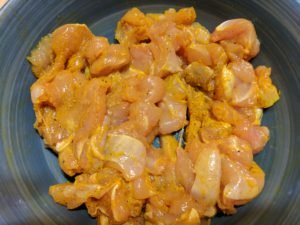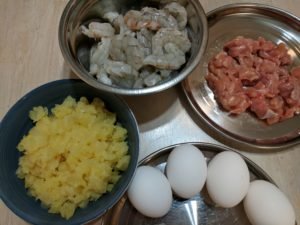 1 cup mixed vegetables – peas, carrot, corn, beans
2 cups cabbage – shredded
1 cup pineapple
½ bell pepper chopped (any colour)
6 garlic cloves chopped
1 inch ginger chopped
2 red chilies sliced
3 scallions chopped
3 garlic chives chopped
a handful of cilantro leaves
1 red onion chopped
2 tbsp oil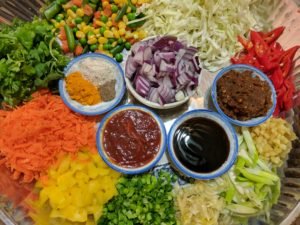 Ingredients top, clockwise:
(Mixed vegetables, cabbage, chilies, ginger, scallion, garlic, chives, yellow pepper, carrot, cilantro.
Middle: Onion, sambal, oyster sauce, sweet chili sauce, turmeric, lemongrass salt and pepper.)
2 tbsp sambal – (See Malaysian red curry post below for recipe)
2 tbsp oyster sauce
2 tbsp sweet chili sauce
1 tsp turmeric powder
1 tbsp lemongrass salt – I make my own
1 tsp pepper,
2 turmeric leaves slivered
a few chili pepper leaves slivered – Oh yes! My grandma used it all the time. I have pots for leaves in my kitchen.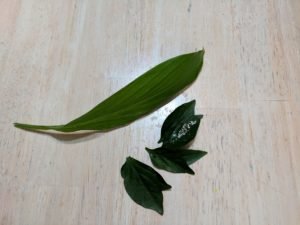 Method:
Make thin crepes with the eggs  and keep them aside.
Stir fry all the ingredients. Heat oil, add garlic and onion, add chicken, shrimp, rice, vegetables, rice and the herbs.
The nasi goreng will come together fast because it is stir fried. Be organized and have all the ingredients ready.
Add the turmeric and chili leaves last to the mixture.
When the nasi goreng is ready, wrap the mixture in the crepe like a parcel.
The size of the crepe is an individual preference. I like a 10 inch in diameter crepe. Four tablespoon should suffice for one crepe.
Place four tablespoon of filling in the middle of the crepe and fold it carefully like an envelope.
Neophytes pay attention. To avoid your telur bungkus from falling apart while serving, seal the open edges of the egg with an egg mixture sealant.
This is how you do it.
Sealing with the batter:
Beat 2 eggs with 2 tbsp flour, salt and 2 tbsp water.
Dip the sealed side of the wrapping carefully into the egg mixture and pan fry the sealed edge on a pan brushed with some oil. Do not deep fry it.
It's sealed now and you should be able to pick the parcel up easily without breaking with a big flat spatula.
Place it on individual plates for easy serving.
Garnish:
Zig zag the parcel with sweet chili sauce. Sprinkle chopped scallion and red chilies.
Switch it up with a few decorated mini vegetables and serve it up as hor d'oevres.
For a more fancier effect, write your guest's name on the parcel with the chili sauce.
Tie a bow with something edibles like chives, asparagus or carrots, (pandan) screwpine leaf.
Layer the vegetables in stages inside the parcel so that when the guests open the parcel they get a bite of new things to eat.
It makes great hor d'oevres especially when your guests arrive hungry during those cold Christmas evenings. What a delight they get when they are offered a hot parcel with their names written on it.
You can make them ahead because they can be heated up in the microwave for 45 seconds. Prepare the finishing touches and you'll be the star of a Malaysian fav.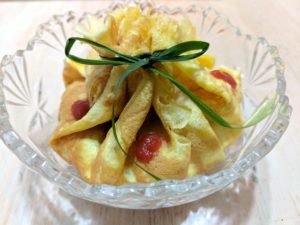 If the wrapping is too challenging just do the nasi goreng and wrap it into banana leaf bowls. Can't go wrong there.
Make a simple omelette as garnish.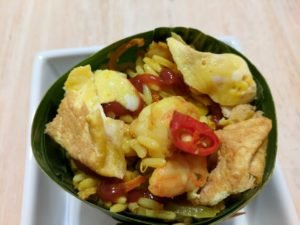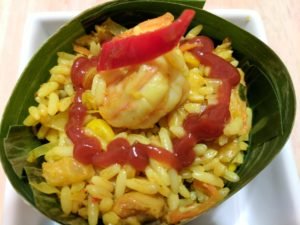 Wow your guests this Christmas and holiday season with a fancy telur bungkus.
Yield: 10 telur bungkus as a main course/ 40 hor d'oeuvres.
Prep. time: 1/2 hour prep. 1 hour frying, wrapping and garnishing.
Have fun doing it.
Tagged under:
#asia
,
#asiancuisine
,
#asianfood
,
#breakfast
,
#chef
,
#cuisine
,
#dinner
,
#ethnic
,
#ethnicfood #delicious
,
#exotic
,
#food
,
#foodie
,
#homecooking
,
#homemade
,
#lunch
,
#malaysian #malaysia
,
#malaysiancuisine
,
#multicultural
,
#recipes
,
#savoryfood
,
#telurbungkus #nasibungkus