Malaysian red curry chicken (Ayam masak merah)
Make the curry paste ahead and you'll have a delicious, easy, exotic dish to wow your family and friends.
Red curry chicken
Ingredients:
4 chicken breast or 1 chicken cut into 8-10 pieces
2 tbsp oil
3 tbsp curry paste or more (see recipe below)
½ cup to 1 cup water or you can use ½ cup of coconut milk
Method:
Heat the oil in a wok or pan over medium heat.
Add the curry paste and stir it until the paste and oil are combined and the oil starts to float.
Now add the chicken and keep stirring until the chili paste coats the chicken pieces.
Add the water a little at a time if the mixture becomes too dry. Cook until the chicken is cooked.
It's that easy.
*TIP
This is just one type of red curry paste.
I also make a few other types of red curry paste using fresh turmeric, galangal, ginger and lemongrass. These ingredients change the taste of the curry paste drastically. It will be a different dish altogether.
You can keep the curry paste in the fridge and all you need is meat and vegetables to serve a
wonderful meal. It's fast and simple.
You can further change the taste with adding turmeric leaves, basils (there are many types) and Vietnamese mint.
Every bite will keep your taste buds guessing.
The rice
4 cups Thai fragrant long grain rice or Basmati rice
2 cups coconut milk
3 cups water
1 tbsp salt
2 pandan leaves (screwpine leaves)
Wash the rice and add all the ingredients into the rice cooker. That's it.
The Sambal

Red curry chili paste – sambal (10 ingredients)
1 cup dried shrimp
¼ cup fish sauce
2 inches shrimp paste (Malaysian belacan) Yum!
¼ cup lemon juice and lemon zest
¼ cup tamarind pulp
1 cup Thai red chilies (the 2 inch ones)
20 dried red chilies
1 cup garlic
1 cup shallot or red onion
1 palm sugar
Dry roast the onion, garlic, chilies and shrimp paste in a pan over low heat.
The sambal below: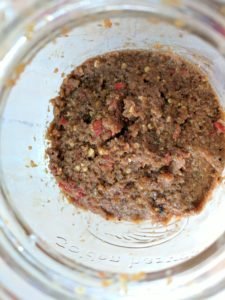 Now add all the ingredients into a food processor and blend until fine. Do not add water.
Store it in a jar in the fridge.
Serve the red curry with coconut rice and cucumber salad. I like my dish on the hotter side, the coconut rice and the cucumbers balances the heat out.
No need for a cup of milk or a glass of vodka.
TOP