How to make olive sourdough boule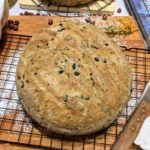 Sourdough the divine creation; from the Bible, Alaskan prospectors, to the world-famous San Francisco sourdough, it's a living, healthy, fermenting process. Catch the wild yeast and you will be rewarded with a flavourful, crispy on the outside and rich inside sourdough goodness.
I've been baking for a very long time; I thought I knew about all about baking breads until I discovered new ways to catch the lactobacilli and wild yeast. Deviate from flour and water and explore unique ways to start a sourdough starter.
Just when I thought I knew sourdough; I found a new method. A starter from apples.
The starter is from the book but the sourdough recipe is mine. I couldn't leave it alone, I just had to add a few flavourful ingredients.
This awesome loaf is made with rye sourdough, Kalamata olives, sun-dried tomatoes, orange zests, fresh Rosemary, pecans, olive oil, caraway seeds, and Himalayan black salt.
My house smells divine.
Olive bread
Ingredients: In bread machine order:
2 ½ – 3 cups warm water
2 cups rye sourdough starter or regular sourdough starter (see options)
3 tbsp olive oil
2 tbsp sugar
2 tbsp orange zest
1 tsp salt
OR 2 tsp yeast
Mix the below to the dough by hand
2 cups Kalamata olives halved
½ cup sundried tomatoes roughly chopped
1 cup pecans or walnuts
3 tbsp caraway seeds
3 tbsp chopped fresh Rosemary
Method:
Let the dough proof and double in size in a warm place for 2-4 hours. It did proof fast.
Shape it and let it rise for a further one hour.
Bake it in a preheated oven.
Option one: Use sourdough starter that you have.
Option two: Use 2 tsp active dry yeast for those who don't have sourdough.
Option three: Rye sourdough starter, From Baking Sourdough Bread, by Goran Soderin and George Strachal. Page 20
Rye starter ingredients:
¾ cups water
2 cups finely ground rye flour
½ cup peeled grated apple – yes it uses apples, the book doesn't specify the type of apple so I used Granny Smith.
Method for starter:
Combine the ingredients in a jar with a tight fitting lid and let it stand for 2-4 days.
Stir it twice a day.
Once the mixture starts to bubble, feed it as you would any sourdough starter.
It is ready to use for baking.
*TIP
Temperature has to be between 70° F or 20°C for the starter to bubble.
The sourdough starter must bubble for it to be active. During winter this process can take a bit longer. Be patient and wait for it.
Place a baking tray with warm water as you would for baking baguette on the bottom oven rack.
Preheat the Dutch oven or stone and place the dough onto the hot mold.
Use a basket and couche to proof the dough.
Bake for 250°C for 10' covered, reduce it after ten minutes to 230°C and bake for an additional
35' uncovered.
Don't shy away from question. I'll gladly answer them. Here, or on the cooks cooks forum.
For a beautiful collage of Malaysian food please visit my Instagram handle: manecutagawri
Each and every image and text on this website is copyright protected. Share the link itself, if you want to share this post. Do not repost or republish this recipe or its images without the author's written consent. Otherwise, you will be served with a DMCA Takedown Notice for copyright infringement.
Thank you everyone for all the likes and heart warming comments.