How to make Malaysian seafood sambal
Seafood sambal
Hi everyone. You asked and here it is. Don't you dare cut back on the chilies now.
Can you handle the heat?
This is the sambal most Malaysians go to for everyday cooking. Malaysian hot food is not just hot, it's tasty and spicy hot at the same time.
It's very easy to make as long as you have all the ingredients that can be readily purchased from Asian grocers.
I do make everything from scratch, however, go ahead and buy some prepared items like the tamarind paste and chili paste.
The combination of three different chilies gives the sambal the intense red colour and piquant.
If you are looking for that authentic Malaysian sambal don't switch or substitute the ingredients.
I was mortified upon watching a video of Mary Berry cooking as she called it Malay Chicken Curry. It was horrendous.
Mango chutney? Who uses mango chutney to cook curry in Malaysia, and all the substitution were simply not acceptable.
Mary, I love your baking and I think you should stick to what you know best and try not to venture into unknown cuisines.
Let's get started,
Ingredients:
Grind or blender the below seven ingredients with 1-1 1/2 cups of water.
2 cups red dried hot chilies (soak in water for 2 hours or overnight) or sambal oelek
25-30 Thai red chilies
5-6 long fresh red chilies
2" ginger
1 garlic bulb
1 shallot (or red onion)
1" Malaysian shrimp paste (roasted slightly over fire to release its' aroma) – not fish sauce
Malaysian Shrimp Paste – Belacan
The sambal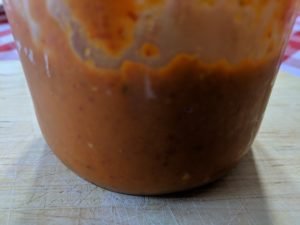 1 large red onion sliced
½ cups tamarind paste (buy it in a jar)
juice from 1 lime
2 tbsp palm or brown sugar
1 fresh lemongrass slightly pounded
¼ cup oil (you'd need a bit more oil thus the ¼ cup)
(one or more mixture of seafood)
20 huge shrimps – cleaned and deveined
2 cups octopus
2 cups scallops
The sambal when cooked with tomatoes can be poured over whole fried fish.
Method:
Heat the oil in a wok or pan. Add the onions and saute until the onions brown.
Add the chili paste, lemongrass and cook the chili until the oil starts to float to the top.
Now add the tamarind paste, lime juice and palm sugar.
The mixture should start to thicken.
Make sure the chili is well cooked. The only way to know this is by letting the oil float above the mixture.
Add the seafood and cook for two to three minutes. No more.
In Malaysia seafood is cooked fast over high heat to retain its flavour. Keep stirring the seafood to cook it fast under three minutes.
The saying goes—either cook the seafood for two minutes or two hours. Two hours being a bad joke.
Remove the mixture from the pan as soon as the seafood changes colour.
You should be tasting a thick saucy, red sambal with perfectly cooked seafood.
Prep.Cook Time: half hour
Yield: serves 4 generous portions
Served with: Rice, cucumbers, tomatoes
Each and every image and text on this website is copyright protected. Share the link itself, if you want to share this post. Do not repost or republish this recipe or the images without the author's written consent.  Otherwise, you will be served with a DMCA Takedown Notice for copyright infringement.