Fried Mee Hoon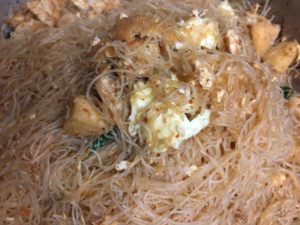 My kids call it skinny noodles.
This is Malaysian fried noodles that is eaten for breakfast, as a snack or for tea time. Everyone is always eating something in that country. I am a 7th generation Malaysian so I know Malaysian food. Now I am a proud Canadian. As a Canadian you gotta eat this dish with Sriracha.
Ingredients:
1 pack white rice noodles soaked in cold water overnight or for two hours with ½ tbsp of salt, and drained.
Mix both the soy sauces with the drained noodles. It helps distribute the sauces.
* You could soak it in hot water for 10 minutes but be sure to take it out fast.
(not the yellowish kind nor vermicelli)
A handful of bean sprouts
A handful of mustard leaves or other greens (even spinach) (lettuce gives it a crunch)
10 fish balls cut into quarters
1 fried fish ball cut into squares
2 firm tofu cut into squares
2 tbsp dried prawns ground or dried anchovies
5 garlic pips pounded
5 garlic chives cut into 2 inch pieces
2 spring onions cut into 2 inch pieces
5 eggs (make a simple omelet and cut into strips and keep aside)
1 cup fresh shrimps
¼ cup oil
¼ cup light soy sauce which gives the taste
¼ cup dark soy sauce which gives colour
sambal oelek or a few dried chilies pounded
(I use 3 tbsp of sambal that I prepare and keep in the fridge)
Utensils needed:
Wok and cover for the wok (or a pan will do)
Two Chinese spatula
Method:
Prepare all the ingredients and keep them nearby. This is a stir fry which means the cooking must be done fast over high heat.
Over medium heat, heat the oil and add the chilies and garlic first. Cook it until the oil starts to float and the aroma of garlic fills the air.
Add the tofu, fish balls, prawns and dried prawn and keep stirring with both the spatulas.
Stir for a few minutes until the tofu is cooked. You can add some water if the mixture is
too thick.
Increase the heat, add the drained rice noodles. Stir fast so that the noodles don't stick to the bottom of the wok.
Lastly, add the spring onions, chives, sprouts, leaves and the fried eggs.
Stir until everything is incorporated and the noodles are translucent.
Cover and switch off the flame. Leave it for 10 minutes. The noodles will continue cooking in the steam.
After 10 minutes, you can enjoy mee hoon.
As with any stir fry or recipe this is just one of the versions. You can add whatever you want; slivered potatoes, chicken strips or other seafood.
Please post your pictures and let me know how yours turns out.
Thanks for all the likes and comments.