Dosai
This is an Indian fermented pancake made out of rice, urad dal and fenugreek.
The fenugreek acts as the fermenting agent.
This is how my family has been doing it for 7 generations. This is how I do it. But go ahead and improvise.
Ingredients:
3 cups idli rice. Trust me it won't work with other rice variety. I have tested it.
1 1/2 cups urad dal
2 tbls fenugreek
Method:
Wash and soak all the ingredients in separate bowls in the morning.
In the evening start grinding it in the blender. Blend them separately.
Blend them separately with just enough water to the consistency of pancake batter.
Not to runny nor too thick.
Pour the batter into a bowl and mix it with your hand.
Let the mixture ferment overnight. Stand your huge bowl on a tray or cookie sheet in case of overflow.
This part is a bit tricky because when the weather is cold it takes longer for the batter to ferment. It's faster in the summer.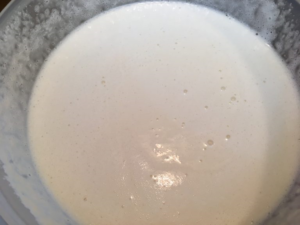 You'd know when the batter is ready because the mixture would be double or triple in size and bubbly.
When the batter is ready you can take the portion that you want and add some salt to it.
Leave the rest in the fridge for another day
Mix it well and spread it onto a griddle. Use low flame. It should not stick the pan.
You may mess up on the first or second try but third time is a charm.
Oil the griddle lightly and pour the batter and spread it like you would for crepes.
The dosa should be crispy on the outside. Fold it and transfer it to a plate.
I love mine with coconut chutney.
Glad to answer any questions on the forum.