Canadian Thanksgiving Dinner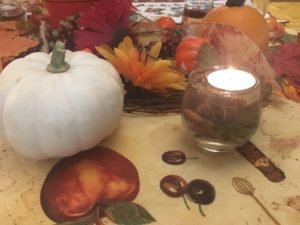 This is my Canadian Thanksgiving dinner. I make all of these from scratch.
It serves twenty-five people who have a sit-down dinner and there's still plenty leftover.
Brined, roasted, fall off the bone turkey
Turkey Gravy
Cranberry sauce with red wine
Cornbread Stuffing with white wine
Cabbage coleslaw
Potato salad with codfish
Smoked turkey salad
Spaghetti squash with Alfredo sauce
Beets with cinnamon and cumin
Corn
Asparagus with aioli
Pumpkin pie
Pecan pie
Kaya in mini pumpkins
Butternut squash fries
Sweet potato balls
Apple fools – an apple pie actually, made with maple syrup, I call it apple fools because I bake it in the oven in a cast iron pan without a bottom crust and it is served hot from the pan with French vanilla ice-cream.
It is pretty darn good especially in winter.
Homemade breads
Cornbread
Onion and sage bread
Sunflower bread (sourdough)
Pumpkin bread (sourdough)
White bread (sourdough)
Nordic nut bread
Monkey bread
Thank you and happy thanksgiving.